Mini-compounder, DSM Micro 15
DSM micro-extruder (DSM Research B.V., The Nederland) has 15ml volume capacity, co-rotating twin screw and the temperatures in the six heating zones range from room temperature to 400oC. The extruder can be fit with fibre and tape dies for the direct extrusion of fibres and tapes. The machine has computer telemetry giving data indicative of the viscosity, speed (rpm) and force (N).
Features
Co-rotating twin screw (conical)
15 ml capacity
Maximum temperature:400°C
6 different heating zones
Different dies available
Speed (rpm) and force (N) controlled
Inert gas
Water and pressure air cooled
Online data recording (T, rpm, force)
Direct inject moulding possible
Single Screw Extruder, Collin TEACH-LINE® E20T
The Extruder E 20 T of the TEACH-LINE® series are particularly aimed at the field of training and education. In combination with a wide range of modular downstream equipment, plastics processing techniques can be studied on a small scale.
Heating is provided by three barrel heating zones, two of which have air cooling and the inlet zone is water cooled. An easily removable hopper simplifies material changeovers and cleaning. Dies are connected using a quick release C-flange which simplifies mounting and de-mounting.
Features
Screw speed: 5 – 200 rpm
Max. throughput (LDPE): 2.5 kg/h
A wide range of dies and downstream units are available
Twin Screw Extruder, Collin ZK25
The Collin twin-screw kneader is used in development and production of all types of polymer materials, such as thermoplastics, thermosets, elastomers, paints, foodstuffs, doughs and pastes. The control is arranged ergonomically in an operator panel positioned above the extruder. The controller serves for 15 temperature regulation zones, screw speed control, ampere meter or torque measurement, melt temperature and pressure measurement.
Features
Applications with counter-rotating operation
Applications with co-rotating operation
Use as single-screw extruder
Construction of the barrel from individual segments
Construction of the screw from modular elements
Easy cleaning by moving the barrel elements on a sliding rail
A number of processing tasks can be carried out, such as:
Mixing and dispersion of pigments
Incorporation of fillers and other additives in polymers
Incorporation of fibre strands
Alloying of polymers or pastes
Degassing of volatile constituents from polymers
Implementing continuous reactions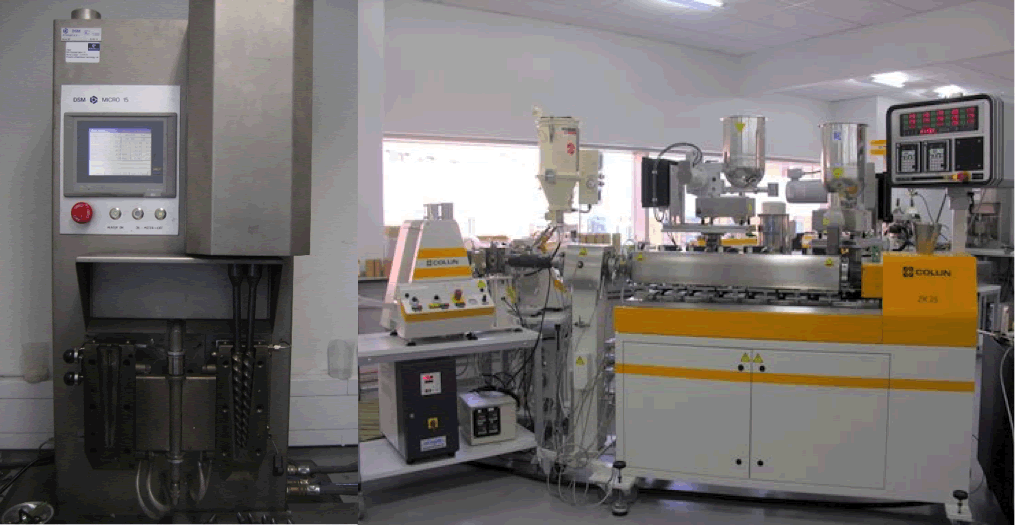 Mini-compounder, DSM Micro 15 (Left) and Twin screw extruder, Colin ZK25 (Right)