News
No ovens? No problems! - Scientists develop extremely energy efficient manufacturing method for natural fibre composites
4 May 2023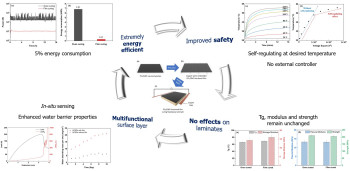 Energy efficient out-of-oven manufacturing of natural fibre composites, with integrated multifunctionalities
No more worries about high energy bills for composites manufacturing! Materials scientists at Queen Mary University of London have developed an innovative and energy-efficient method to manufacture natural fibre composites without the need for conventional ovens. This out-of-oven method is based on a smart nanocomposite film that heats and cures the laminates at the desired temperature, reducing energy consumption by up to 95% compared to traditional oven curing methods.
Contact:
Han Zhang
Email:
han.zhang@qmul.ac.uk
Link:
https://www.sems.qmul.ac.uk/news/6376/no-ovens-no-problems-s...
Updated by: David Lockwood